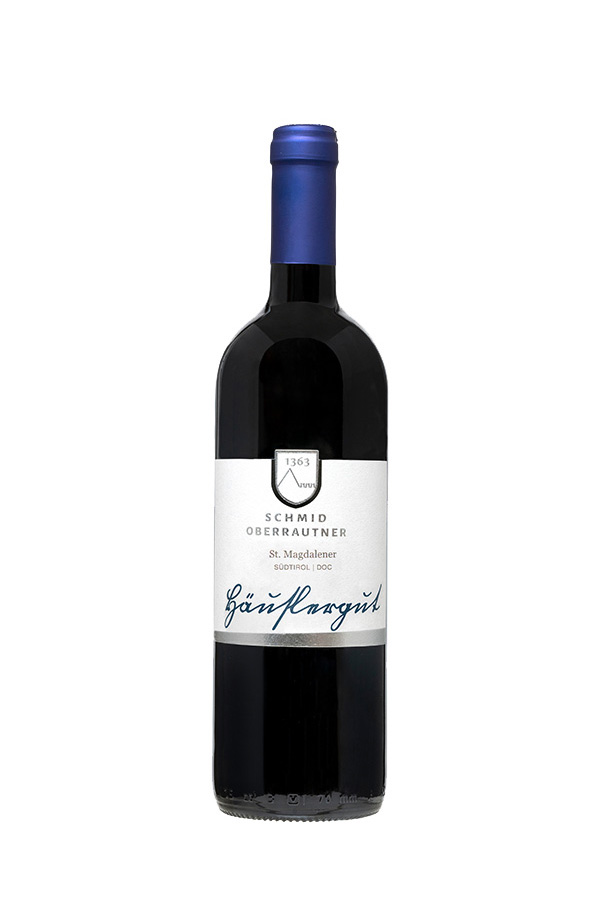 Santa Maddalena Häuslergut
This elegant red wine is named after the wine village "Santa Maddalena", situated on one of the hills around the city of Bolzano. The "Santa Maddalena" is the result of two grape varieties, the Schiava and the Lagrein, which are contained in different amounts in this elegant red wine. In the glass, the wine is recognizable thanks to its light ruby colour, and it offers a fruity bouquet with hints of violets and almonds. In the mouth it has a round medium-body that allows its degustation in many different occasions.
---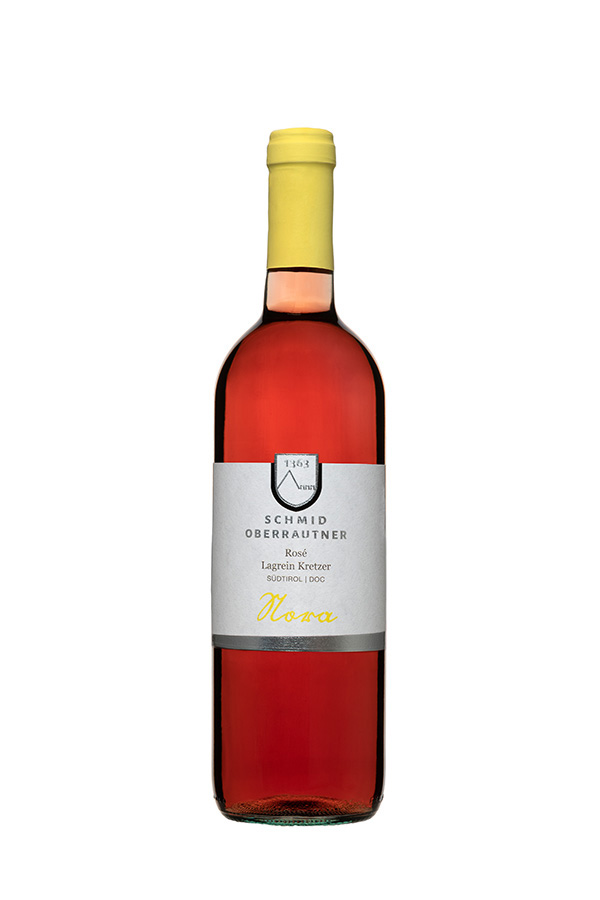 The Lagrein Kretzer is called after the woven basket "Kretze" or "Krätze" that was used by farmers in order to separate the grape skins from the must. The vinification of this wine is carried out with the pressing and fermentation of the must in steel tanks, while its aging takes place in wooden barrels. The result is a salmon pink wine with red reflections and a fruity aroma. In the mouth, it is fresh and crisp, with hints of cherry and red berries followed by an elegant bitter finish..
---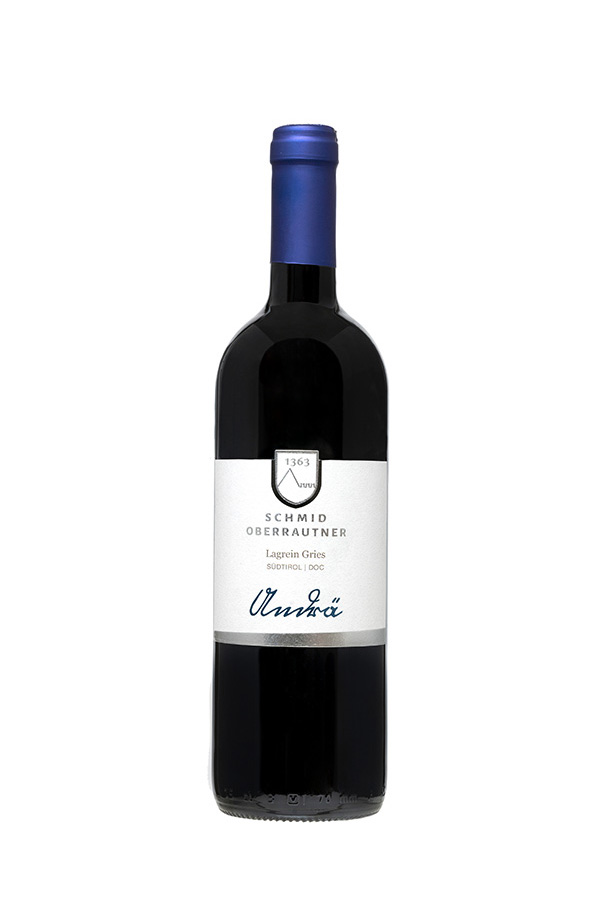 The Lagrein is one of the most famous grape varieties of South Tyrol and has its place of origin in the valley basin of Bolzano. This wine is recognizable by its deep cherry red colour and a fruity and floral aroma with scents of cacao and leather. It intrigues the palate with its full, but at the same time, smooth body followed by a long finish.
---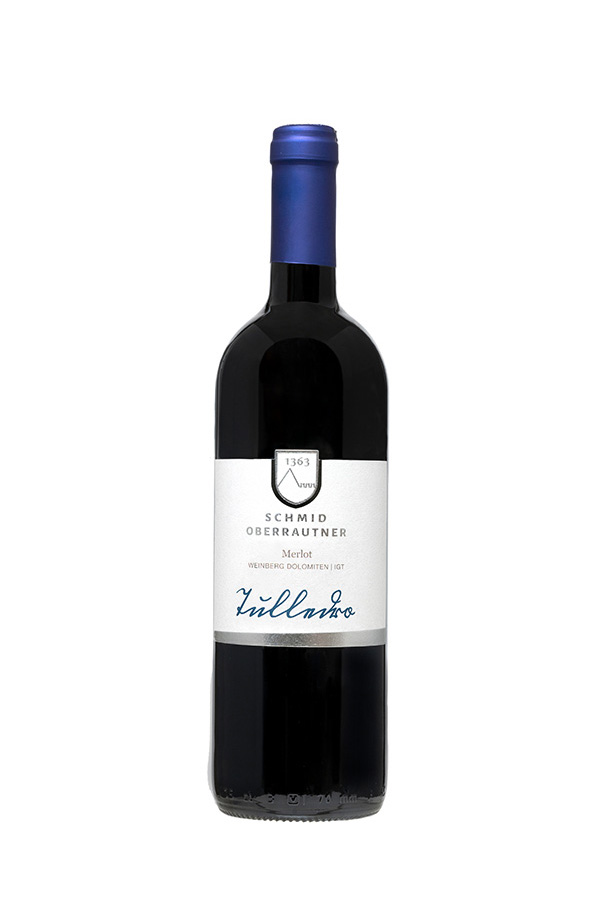 The grape variety of the Merlot is known and cultivated internationally. In our winery its whole vinification takes place in wooden barrels and is carried out in three fundamental steps: the maceration of the grapes, the malolactic fermentation and the final aging. After months of wait, the wine that we obtain has deep cherry colour and an intense aroma of spices and fruits. In the mouth, it offers a good tannic structure, followed by a long finish.
---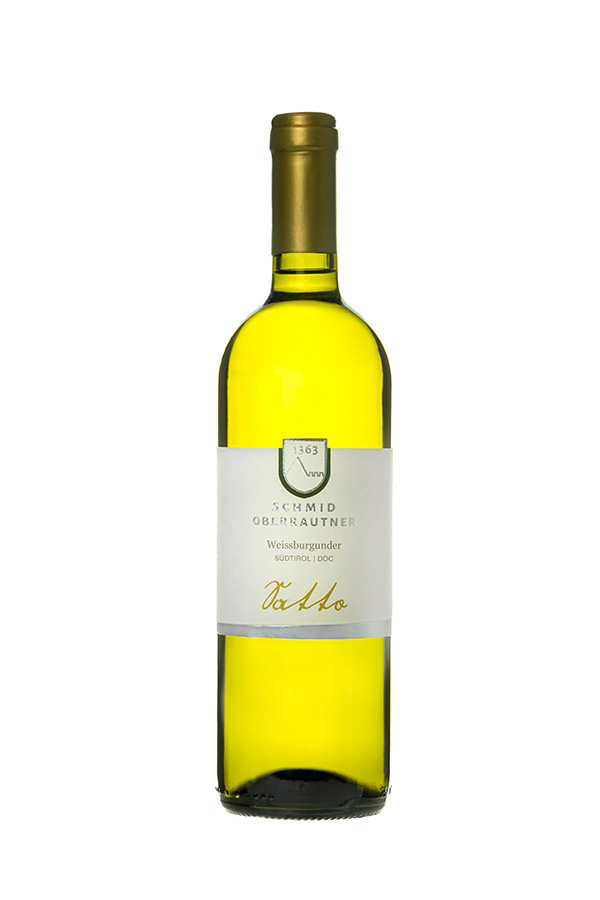 Usually known as Pinot Bianco or Pinot Blanc in the rest of the world, the Weißburgunder is the white mutation of the classic Pinot Noir and can change its characteristic according to the process of vinification that it receives. In our winery the Pinot Blanc is obtained thanks to the fermentation at a controlled temperature in stainless steel tanks, followed by an aging on lees for 4 months. The result is a wine with a bright yellow colour and green reflection that satisfies many people thanks to its delicate aroma of peach, its balanced flavour of fruits and a medium length.
---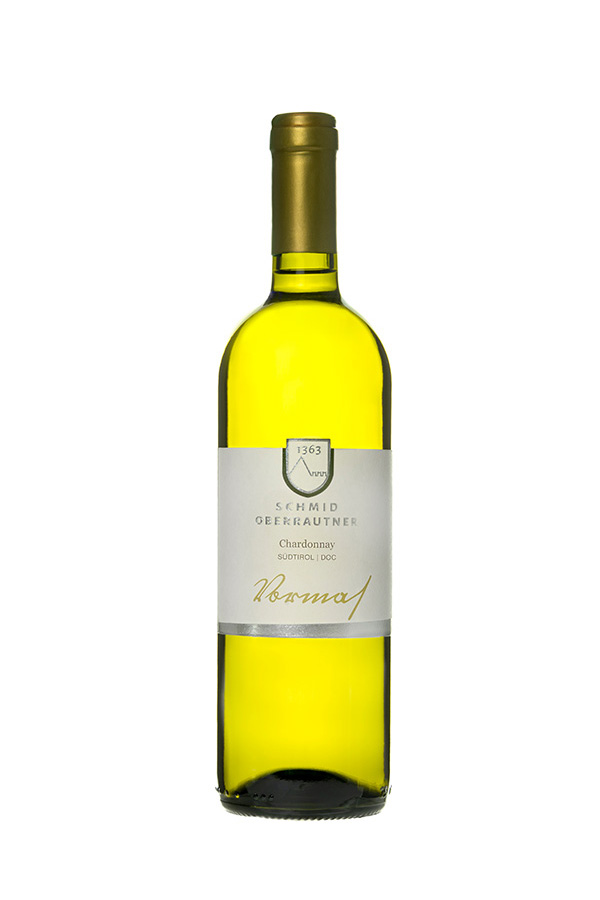 The Chardonnay is an international wine that has received positive feedback in South Tyrol as well. Our Chardonnay Vormas has the typical straw yellow colour with soft greenish shades and an aroma that reminds one of a sweet apple. The palate is crisp and combines a harmonious game of exotic fruits, followed by a medium finish.
The classic Chardonnay is here presented in a different version, thanks to the particular vinification, named "Villa Schmid", that it receives. This process consists of two important steps: the fermentation of the Chardonnay grapes in wooden barrels and the aging in steel tanks and barrique. The result is a chardonnay with a bright yellow colour. In the nose, it has a balanced scent of pear and vanilla received from the aging in barrique, while in the mouth, it offers a fruity taste followed by a long finish.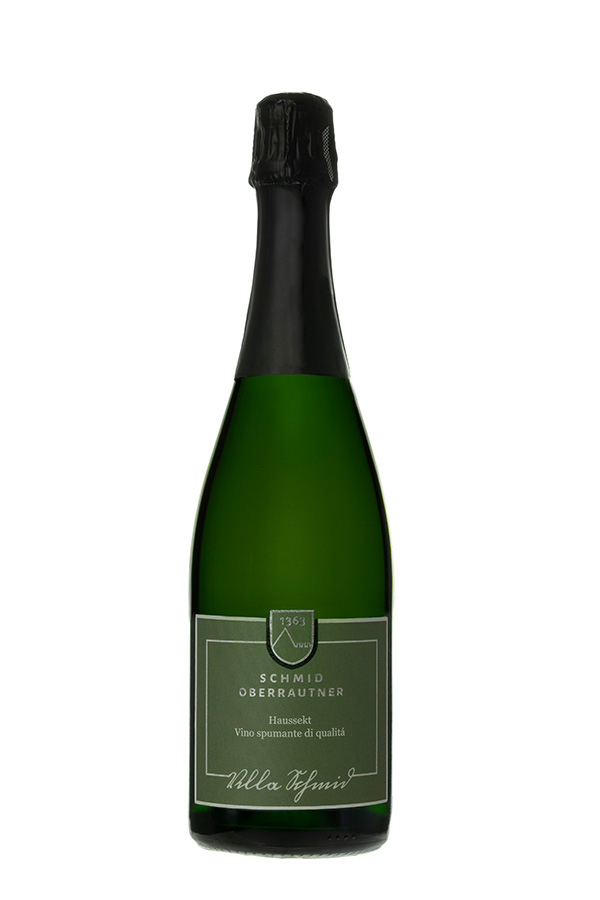 Villa Schmid Sparkling Wine
For our winery, this sparkling wine is a true gem. We are now in the 17th year of production of this particular sparkling wine and are very proud of the development. The base wine is bottled with care and after at least 3 years aging on lees, we disgorge the sparkling wine at an associated winery. A fruity aroma with hints of pineapple and apple. Very creamy on the palate, round and mild with a fine perlage.
---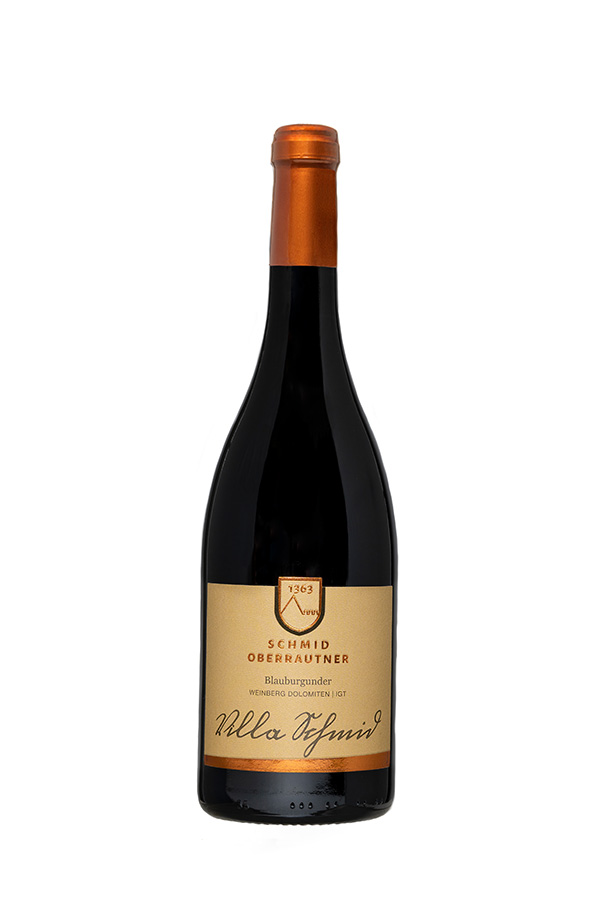 The Blauburgunder is usually known as Pinot Nero or Pinot Noir. Our Blauburgunder Villa Schmid has a deep red colour and a fruity bouquet of cherry and wild berries. The bouquet combination reappears in the mouth with a full-medium body. The Blauburgunder of our winery is obtained through a particular vinification based on a fermentation in steel tanks and an aging in 75% wooden barrels and 25% barrique. The term "Villa Schmid" is used by our winery to indicate this particular type of vinification.
---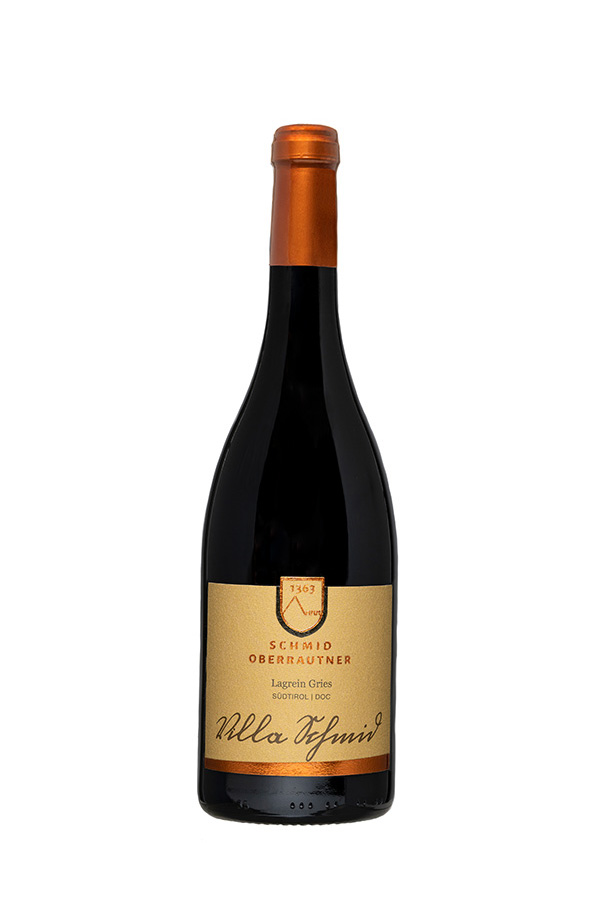 The grape variety of the Lagrein allows many interpretations. The term "Villa Schmid" is used by our winery to mark a particular type of vinification that is realized by maceration and fermentation in steel tanks and an aging in 75% wooden barrels and 25% barrique. Our Lagrein "Villa Schmid" has a dark red colour with purple shades with a complex bouquet that combines notes of violet, cinnamon and vanilla. In the mouth, a taste of wild berries stands out, followed by an aromatic long finish.
---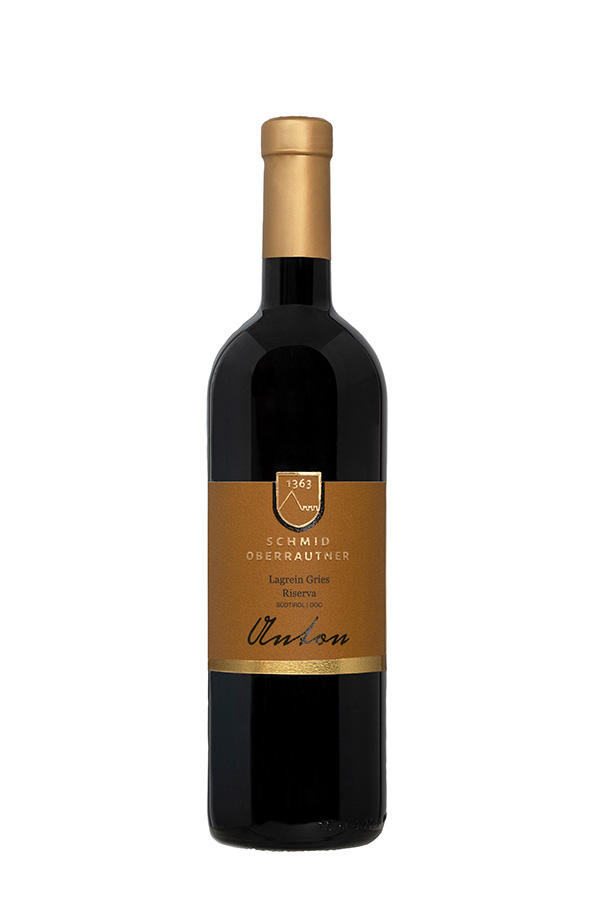 Lagrein Gries Riserva Anton
With patience, our winery work on this "Riserva Lagrein" for over a year, in order to get a high-quality wine. The vinification of this native grape variety starts with a fermentation of 15 days in steel tanks and continues with an aging of 11 months in barrique. At the end of the long wait, we get a garnet red wine with a complex bouquet of cherry, plumes and spicy notes like dark chocolate and leather. A robust almost bitter finish contrasts the fruity flavour.
Available also:
Südt. Grieser Lagrein Riserva Magnum
Südt. Grieser Lagein Riserva 0,375 l
---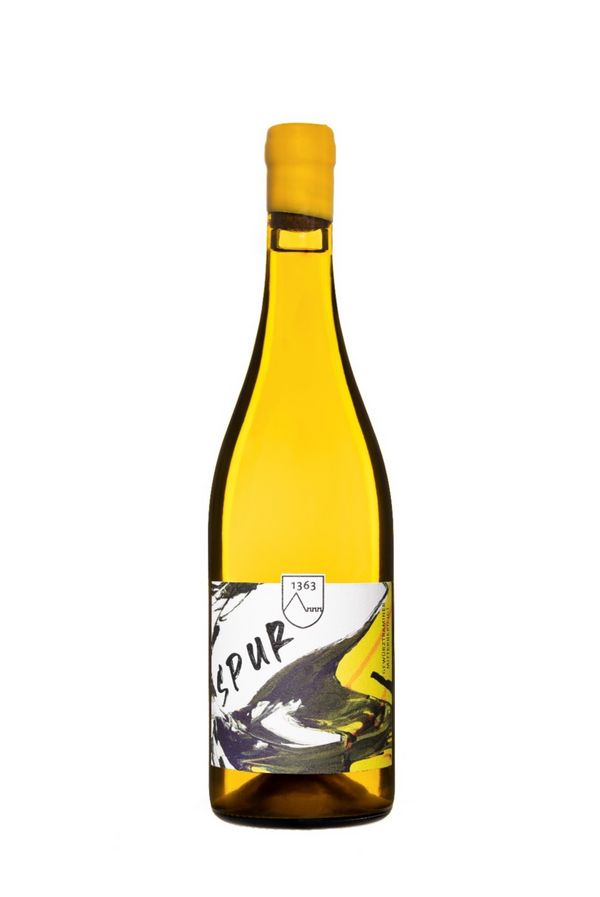 Questo nuovo vino percorre una nuova "SPUR", una traccia nuova. Coltiviamo il nostro Gewürztraminer su pendenze estreme, con tanta passione e tanto lavoro manuale riusciamo a portare questi aromi intensi anche in bottiglia. Tramite una fermentazione spontanea, una macerazione lunga sulla buccia e una "battonage" dei lieviti fini per 7 mesi, il nostro Gewürztraminer è espressione di una tradizione vitivinicola centennale, un´arte tramandata di padre in figlio.
You can also purchase our wines online and order South Tyrolean wine enjoyment to your home.